---
Pressrelease: All hands on for the 22nd Flax-Mill Open Day and Yard-Fest on Saturday, Sept. 12th!
The old Flax Mill in Derrylane, outside Dungiven is a hive of activity with less than one week to go to what a Dutch journalist once described as "Ireland's most spectacular private gathering".
Helpers from Germany, England and South Africa have already landed – with more coming during the week – to get county Derry's only active linen-weaving-mill ready for large crowds of visitors from far and near next Saturday. All day, a number of hand-picked master crafters will demonstrate their skills and offer their high-quality products for sale. Mill owner Marion Baur is delighted with the state of affairs: "We have managed to put together a programme for the Open Day and the concert in the evening which is set to please our visitors, no matter where they come from. People travel thousands of miles to meet here, to exchange experience and have a good time. As every year we will bend backwards to make it an unforgettable day for them."
Here are some of the highlights of both Open Day and evening gig. ... read more ...
---
22nd Open Day and Yard Fest at the Flax-Mill set to draw visitors from all corners of the globe
From everywhere to Derrylane
On Saturday, September 12th, the historic Flax Mill in Derrylane just outside of Dungiven will experience – for the 22nd time – what a Dutch journalist once called "Ireland's most spectacular private event". County Derry's only active linen-weaving-mill is all geared to host a unique mixture of demonstrations by top crafters, a large gathering of designers and textile manufacturers from far and near and an evening concert with an international line-up on stage playing to a selected audience of music- and poetry lovers from at least 15 countries.
Mandy Bingham at the Flax-Mill Yard Fest 2015
Mandy Bingham writes her songs very much from the heart. With her acoustic guitar and her wealth of life experience, she creates beautifully formed lyrics and melodies. Her voice is pure and strong and can't help but make an emotional connection to the listener.
Hailing from the North Coast of Ireland, Mandy is the eldest daughter of singer songwriter David McWilliams (Day's of Pearly Spencer). Her mother Gil McWilliams was also involved in the folk music scene in the 60's and 70's. This cultural and family heritage is inherent in her songwriting.Her debut EP Mandy Bingham Volume 1, was released earlier this year to excellent reviews, further information about Mandy can be found at www.mandybingham.co.uk or on Facebook at Mandy Bingham Music.
---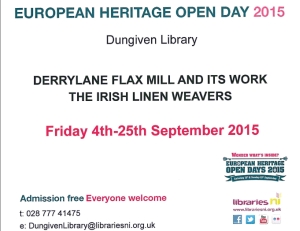 ---
The return of textile in Dungiven

IT'S been over 60 years since the linen industry ceased production in Dungiven town. Now, a woman who hails from Germany is hoping to bring the tradition of linen weaving back to the town, albeit on a smaller scale.
Thursday afternoon saw Marion Baur weave linen on a loom in the building which once housed Dungiven's Post Office.
Marion, who took over the lease of the former Post Offi ce last month, intends to hold a demonstration every Thursday afternoon in an effort to show locals the process of linen weaving. ...

... read more - click on thumbnails on the left, please.

While we are keeping our traditional line of production, especially that of natural linens and tweeds we have added some head-turning new materials to the range. Here are a few examples:
Worsted jacquard-cloth in 12 different designs and colour-combinations. The beautiful fabric lends itself to both clothes-making and upholstery. The raw material is worsted woollen yarn from the best Irish and Scottish spinners. The designs are a blend of classic and modern motives. The colours are a spectacle. We will soon have a few taster-photos in our products-chapter (see Berlin under-page) and can send samples on request. As all our fabrics the jacquards are made in limited quantities.
New designer linens both hand- and machine woven, several of them made with yarn from our own flax. We have increased the range of shirting-linens - designs you won't find anywhere else. Our best-sellers, natural hand woven cloth, the price-winning "basket-weave" are back in stock, as is our unique handkerchief-linen.
Linen tableware galore! Both hand- and machine woven pure linen finished to stylish napkins, runners, placemats and other treats for the good table. Since Belfast's top restaurant introduced our napkins for all their dinner-guests, the making of linen serviettes has gone "through the roof" here but we still treat each one as an individual piece with love and care.
Have you seen our new hand woven linen tea-towels? Not only do they make for a pretty present, once you have dried your good glass-collection with one of them, you won't want any other dish-cloth near you.
Bespoke hand woven scarves made at the Flax Mill are not a new product, many of them have gone all over the world to warm and please people of good taste. Alongside our limited editions of pure linen scarves and the traditional woollen ones you can now get unicates made with hand spun alpaca yarn (the animals live less than a mile from our mill), un-dyed pure Jacobs-wool and a blend of lambs-wool, mohair and bamboo yarn. The superb ingredients are spun exclusively for Flax Mill Textiles by our ingenious commission-spinners Eileen Patterson and Lynda Kelly. It won't be possible to put a photo of each scarf onto the website - they only exist once and are usually gone straight after we make them. Just visit us and check them out!
---
Our master-tailors in Berlin and in Derrylane are prepared to measure you for a new linen shirt, blouse, waist-coat or jacket any time. In that case you will have to come to us or arrange a meeting at your home. "Off the shelf" clothes are not our game and a trip to Flax Mill is certainly worth your while!
---
A date for your diary:
The 22nd Flax-Mill-Yard-Fest and Open Day will rock the old mill in style on Saturday, September 12th 2015! After last year's spectacular gathering and capacity – crowd we strongly recommend booking early. Details will be published on this website soon.
The 21st Yardfest 2014 - ...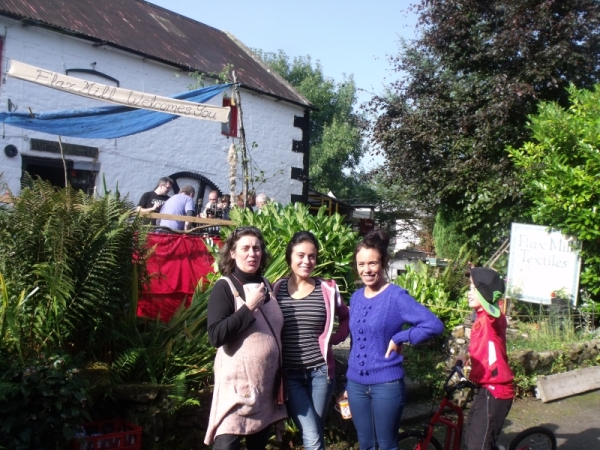 .. already history again. See our photo-galleries.
.
Here's an interview with Dearbhlá Mc Taggart published in the DERRY POST
Photo: Dearbhlá Mc Taggart - taken by Lorraine Hartin
---
Here an Article of the Irish Times (Tue, May 6, 2014, 01:01) where Marion got a mention.

---
Bangladesh textile workers protest at ADLER headquarters, Haibach, Germany
Demand for compensation. ADLER doesn't want to pay.
R. Frankl performs his song "Her mit dem schoenen Leben"..

... please click on picture to watch video of Bavarian TV.
---
Flax-Mill linen in London, finished by silk-screen-printer Charlotte Krone

---
Flaxmill hosts annual fashion show - Derry Post 18-02-2014
SATURDAY saw County Derry's only active linen-weaving-mill in Derrylane outside Dungiven host its annual fashion show. Flax Mill owner Marion Baur and her team of textile-workers and designers presented the new range of exclusive garments made of Irish linen and other natural fibres. The show is set to be repeated at the mill's outlet in Berlin-Weissensee/Germany this coming Saturday.
The presenting was done Aoife McReynolds, Emma Whitehead, Orla McNicholl and Chris Tyndall. Pieces of jewellery by designers Ruth Walker and Dannielle Enblom were also showcased on the catwalk.
---
---
ZURÜCK IN DIE ZUKUNFT
Das irische Leinen entdeckt seine Wurzeln wieder.(12:45 Min.)
---